Diversity
---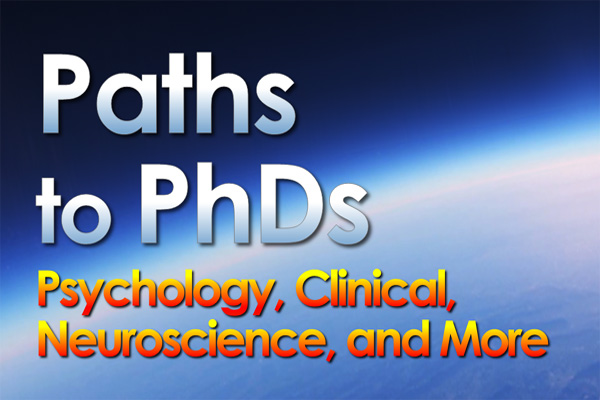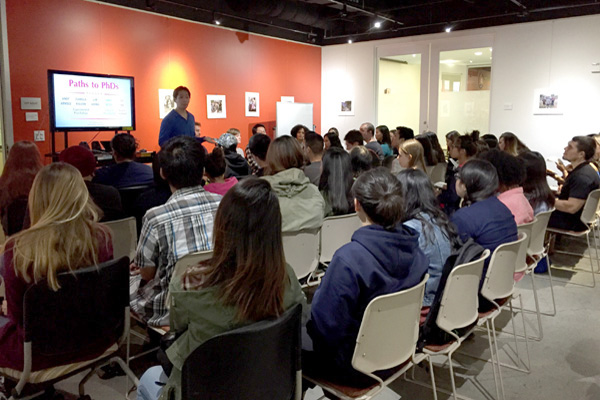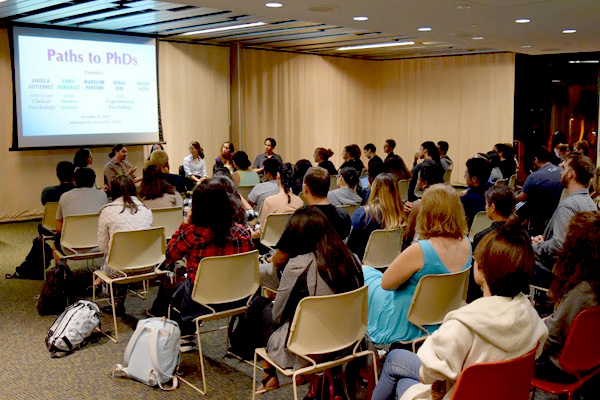 ---
Paths to PhDs
Helping diverse students learn about graduate opportunities in psychology, neuroscience, and related fields
Graduate school should not be just for the privileged few. If one is interested in pursuing a research career, is academically inclined, and willing to work hard, then a graduate education should be within reach. However, far too many undergraduates -- particularly those from minority backgrounds and those who are the first in the families to go to college -- are unaware of higher education opportunities, or find it hard to see themselves attaining a graduate degree. To address this issue, I organized the Paths to PhDs panel workshop series which occurred at UCSD from 2016 through 2018 (before training new graduate members of the Psychology Department to continue the event after my graduation). At each event, 70-150+ undergraduates join a panel of five or six graduate students from different areas of psychology/neuroscience research to discuss topics such as:
Why did you decide to go to graduate school?
Did your family support your decision to go to graduate school?
Is your chosen profession in alignment with the expectations of your cultural background?
Did you have research experience, and what kind of experience was that?
Did you take a break between undergrad and grad school? How did you manage finances at that time?
How did you pick which programs to apply for?
How did you prepare for the Graduate Record Examination (GRE) or other required tests?
What was the interview experience like?
...and many more considerations.
Paths to PhDs is generously sponsored by the Cross Cultural Center, which itself is supported by the Office for Equity, Diversity, and Inclusion. Each event, which typically takes place in Price Center, is announced in the campus Student Events Insider, in student organization newsletters, as at nearby universities (e.g., SDSU, USD, CSUSM).
Here are some testimonials from past attendees:
"I liked the honesty the panelists expressed about their process to get to grad school, it was reassuring to hear how not all of them went directly after college to a graduate program. It was definitely scary to hear the level of difficulty to be admitted to a graduate program and the experience needed, but it was something that it definitely worth knowing, so it was very much appreciated."
"I really appreciated the discussion about what would make our applications better or give us more experience for graduate school, both of which helped a lot."
"What I liked most about the panel was the variety of fields represented and that the panelists were very willing to answer questions honestly."
Here are some other useful resources and links for potential PhD students:
https://psychology.ucsd.edu/graduate-program/prospective-students/admissions.html
https://apply.grad.ucsd.edu/departments/neurosciences
http://voyteklab.com/removing-barriers-to-science/